About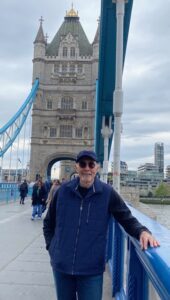 Authors approach writing about themselves in different ways. Check out their website Bio pages, and you'll see some of them are brief —"Just the facts, ma'am"— while others ramble on interminably. I didn't want to fall into that trap, but couldn't decide, so you may select from a shorter or longer version of the DiGenti-Francis resume.
Just the Facts
Vic DiGenti was born in Lawrence, MA, moved to South Florida when he was six, and later attended the University of Florida. He's the award-winning author of six novels, a collection of short stories, and works of nonfiction. His novels include the Windrusher trilogy of adventure-fantasies featuring a four-legged feline protagonist, and the Quint Mitchell Mystery series published under the pen name Parker Francis. Working as a ghostwriter and biographer, he's penned biographies and a family history for clients. Vic's also helped other individuals edit and publish their books through his imprint Windrusher Hall Press. He lives and works in Northeast Florida with his wife and four frisky cats.
Ramble On
I can't claim Massachusetts as my home because my parents moved to South Florida when I was six. For several months we resided in a small room in my grandfather's motel situated on busy U.S. 1 in Dania, Florida before moving a few miles north to Ft. Lauderdale. I remember being a constant reader and my first taste of writing success came in the sixth grade when I took second place in an American Legion essay contest.
The $25 Savings Bond I collected seemed like an invitation to keep writing. At the University of Florida, I earned a hybrid Journalism – Broadcasting degree while working at the College's radio and TV stations. As a sophomore, I penned a mostly fictitious account of how my fellow students used the drug Dexedrine when studying for exams. I sold it to some long-forgotten magazine for another $25. I was on a roll.
As a rising senior, I landed a summer DJ job at WGMA (now WLOY) a small radio station in Hollywood, Florida. I was unaware the station was owned by Jack Barry and Dan Enright, host and producer, respectively, of the 1950s game show Twenty-One, the center of a huge fraud scandal. Read about this incident in my Blog.
My writing career was put on hold after graduation, as I worked my way into and out of a variety of jobs, including TV cameraman and director, disc jockey at a pop music radio station, and setting records as one of the worst vacuum cleaner salesmen of all time, before landing at WJCT, Jacksonville's Public TV/FM station. It was there I was able to put my writing talents to work as a producer and director of documentaries and public affairs programs. I also led the station's promotion department for several years, and later went on to produce the Jacksonville Jazz Festival for eight years.
The writing bug stayed with me throughout my broadcast career, and I freelanced for a Florida business magazine and wrote a humor column for a local weekly newspaper. But it wasn't until I retired that I wrote my first novel, the adventure/fantasy Windrusher, about a street-smart cat on an epic adventure. Windrusher's success motivated me to write two others in the series before moving on to the Quint Mitchell Mystery series using the pen name Parker Francis. Along the way, my novels and short stories won a variety of writing awards, and I thanked my twelve-year-old self for entering that essay contest and encouraging me to keep writing.
Just like so much of what happens in life is serendipity, the opportunity to work with individuals to write their life stories happened by chance when World War II veteran Marty Olson asked me to write his biography. That took me on a new path in my writing journey, and I've continued to collaborate with people who have led fascinating lives, found success in diverse professional fields, ranging from real estate, economics, music, golf, and more. I'm honored they've shared their stories with me.
But I haven't forgotten the world of fiction. That world is a wondrous place populated with fascinating characters, so as long as I have the drive to deliver great stories to my readers, I'll keep writing. I hope you accompany me on my writing journey.